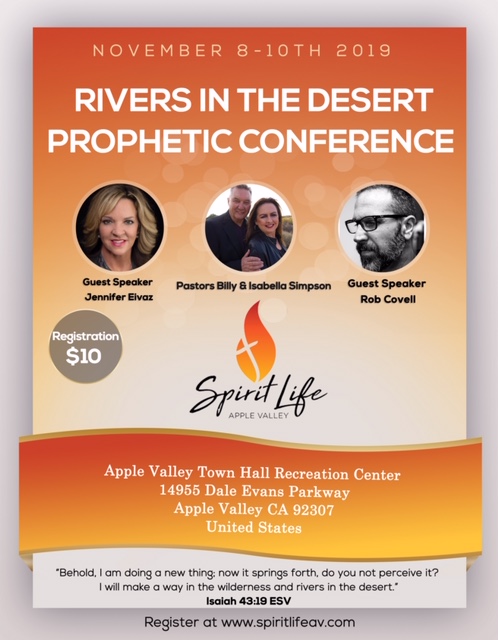 Rivers in the Desert – Prophetic Conference
Sessions:
Friday Evening 7pm, Saturday Morning 10am. Saturday Evening 6pm, Sunday Evening 6pm plus Jennifer Eivaz will speak at Spirit Life AV Sunday Service at 10:30am
Guest Speakers
Rob Covell is the Senior Leader of The Refuge Community in Rancho Cucamonga, CA, the Chancellor of QTI School of Applied Theology, has a MAT degree from Wagner U, is a Creative, a Musician and an author of two books. Rob is known for his prophetic teaching style that encourages believers to pursue Jesus with passion. Rob is married to his amazing wife Carolyn and they have 4 adult children.
Jennifer Eivaz is a bestselling author, having written The Intercessors Handbook, Seeing the Supernatural, and her most recent book Glory Carriers. She is also a featured writer for several online publications including the Elijah List and Charisma Magazine. Jennifer is a vibrant minister and conference speaker who carries the wisdom and fire of the Holy Spirit. She is passionate to equip the Body of Christ for effectual prayer, to hear the voice of God accurately, and to experience genuine encounters with His glory. Jennifer loves the Presence of God and is a prophetic voice to her church and to many others.
Her teaching style is authentic and aimed at the heart, having been built on her personal testimony of God's incredible goodness and miraculous display in her life and in the life of her church. Jennifer is the founder of Harvest Ministries International and an Executive Pastor with Harvest Church in Turlock, California. Jennifer is married to Harvest Church's Senior Pastor Ron Eivaz, and they have two wonderful children. She is a graduate of Oral Roberts University in Tulsa.
Billy and Isabel are both originally from Scotland they have a heart and passion for Revival and carry a powerful prophetic, breakthrough anointing in Worship and ministering the Word of God
Before moving to USA in 2003, they traveled in itinerant ministry in Europe, Australia, and Asia and have led worship in conferences with ministries such as Tommy Tenney, John & Lisa Bevere, Ed Silvoso, Graham Cooke and Cindy Jacobs.
In 1994 they were very privileged to minister in the Sunderland outpouring, a revival in their home church which lasted over 2 years. They then traveled the world with their senior pastors, Ken and Lois Gott, as part of their international ministry team, Revival Now.
They also ministered in Argentina and the Brownsville Revival.
Among their recordings are albums "Songs from the great Revivals" with Brownsville's worship leader Lindell Cooley, and Rivers of Fire from Sunderland.
They planted Spirit Life AV in 2017